Retailer Display Boards
scroll down or click here to learn more
view a PDF of our Display Board Line

Display Board Price List
Display Board Order Form
Introducing a decorative hardware line that embodies excellence & class...
~Over 500 knobs and pulls to choose from~
~Made in Silverton, Colorado~
~Available in a variety of finishes~
~Custom designs available~
Examples of Specialty Display Boards
Available from Barz Decorative Hardware.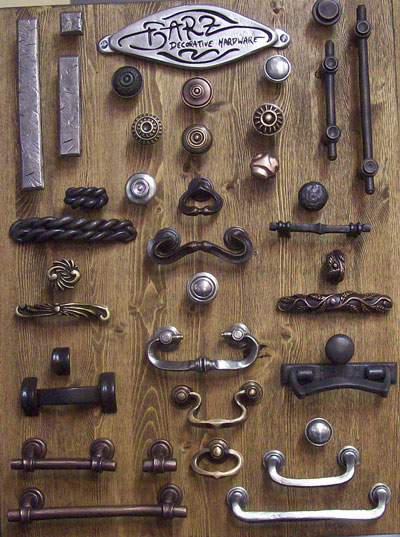 Barz Decorative Hardware offers a complete line of retail display boards for wholesale customers. Boards may be organized by design style (ie: contemporary, whimsical, rustic, etc.) or for a limited time, on specialty boards which display a selection of all design categories on a single board (as shown above).
Click here to get a closer look at all our display board options!
Display Board Information and Prices
Product Details

Our hardware is cast in lead free pewter.

Every piece is available in a variety of finishes.

We design and manufacture all products in Silverton, Colorado.

Our products are environmentally and economically responsible.

Pricing Points

Knobs $16-$20, Glass $30

Oversized Knobs $30

Pulls 3"-$30, 4"- $35, Glass- $42

6" Pulls $44

9"-10" Pulls $75

15" Pulls $175

Dealers with displays take 50% off

Lead Times

All pewter finishes ship in 1-2 weeks

All other finishes ship in 3-4 weeks

We drop ship.

Finishes

4 Pewter finishes

4 Brass finishes

6 Bronze finishes

4 Copper finishes

4 Nickel finishes

All pieces available in 22 different finishes.
Display Board Prices

Best Sellers of 2009 BOARD

18" x 24" for $285.00 (40 pieces)

16" x 18" for $165.00 (24 pieces)

Board shows our top sellers of 2009

Pick pieces if you wish

Pecan or cherry board finish


SPECIALTY BOARDS

18"x 24" pecan or cherry board finish

Board #1 Traditional/Rustic,

Board #2 Modern/Contemporary,

Board #3Whimsical/Glass

2 for $540 (10% off)

3 for $765 (15% off)

Boards include 40 pieces in a variety of styles and finishes. AS IS


STANDARD BOARDS

18" x 48" pecan or cherry board finish

Board #1 Rustic, Board #2 Traditional,

Board #3 Contemporary, Board #4 Modern,

Board #5 Whimsical, Board #6 Glass

FUSED GLASS BOARD

$450 for 18"x 48" pecan or cherry finish

$250 for 18"x 24" pecan or cherry finish

You have the option of hand picking pieces for your board or ordering loose pieces to display.
Click here to download the Display Board Order Form